Xelero is rolling out a new shoe for the new year, the Steadfast. Let's go over the key features that went into the design and technology of the shoe, as well as where and when you can purchase the Steadfast.
The Steadfast includes 5 features that were designed based upon Xelero shoes' existing technology to correct stability while providing supreme comfort.
Multi-Density PU Foam Footbed: The foam footbed's open-cell structure provides a moisture management system in order to move moisture away from the foot in order to provide a cooler, drier, healthier shoe environment.
Control Plate: Works to enhance stability and reduce pressure under the foot.
Propulsion Element: Works to provide stability, control and promotes forward motion.
Midsole: A gel pad under the forefoot and heel that provides added shock absorption.
Dynamic Metatarsal Roll Bar: Designed to reduce forefoot movement and pressure, and consists of a molded plate placed between the outsole and midsole. The Dynamic Metatarsal Roll Bar provides excellent torsional support under the foot.
Who is the Steadfast For?
The steadfast is the newest and best shoe yet for people seeking a stability shoe, as the dual control plates provide a quicker response through the gait cycle (a single gait cycle is also known as a stride). Not only will this shoe provide comfort, stability, and control, but can also aid in remedying both overpronation (inward rolling of the ankle) and supination (outward rolling of the ankle).
Most people don't know they need a stability or motion control shoe until it's too late and they have suffered an injury. But the best part about Steadfast, and Xelero shoe technology as a whole, is that they will provide comfort for anyone. Having a supportive, comfortable shoe isn't just for people with existing ailments or injuries, but simply for the everyday person who is on their feet a good portion of the day.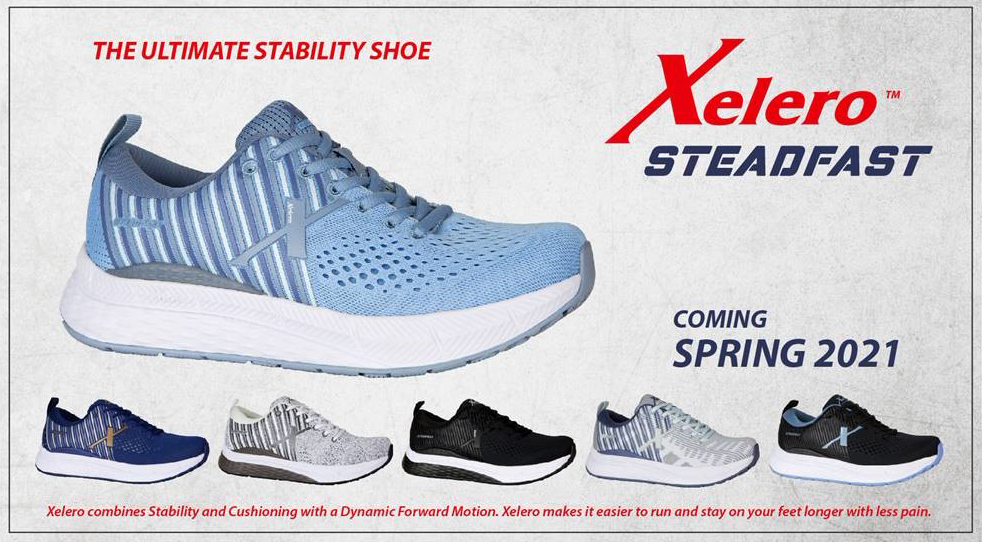 When and Where Will the Steadfast Be Available?
The Steadfast will be released in March 2021. As seen in the image card above, there are sleek new colors and styles for both men and women.  The steadfast will also be available at stores listed on the last image card, as well as at www.xeleroshoes.com.