Having the right shoes on your feet can make all the difference, and this doesn't only apply to runners. People who spend a lot of time on their feet and don't have proper support from their shoes can experience issues in posture, pain, and discomfort over time. So how do you know if a stability or motion control shoe is right for you?
Stability Shoes
Stability shoes are great for people who have flat feet or over-pronate*. They are designed to correct this by having extra support in the midsole, or arch area, in order to help keep your foot in a neutral position. Stability shoes have a little more weight to them than neutral shoes, but the support makes all the difference.
Motion Control Shoes
Similar to Stability shoes, motion control shoes have extra support, except they are designed for people who severely overpronate. The added support of a motion control shoe is in the arch and heel area in order to limit excessive foot motion, and overall the shoe will be more durable and stiffer than a stability or neutral shoe.
What Shoe is Right for You?
There are a few ways to tell if you overpronate or under-pronate, which can help you determine a shoe that will work best for you. One of the easiest ways to tell if you require more stability and support in your shoes is by checking the wear on the bottom of your current shoes. If there is a lot of wear on the inner side of the shoe, you probably overpronate. If you see more wear on the outer edge, it's likely you under-pronate.
*It's important to know that pronation is a natural motion of the foot, and how they move fall on a spectrum. If the wear on your shoes is severe in certain areas, you could likely benefit from having more stability from a motion control shoe.
Matrix 2020 Shoe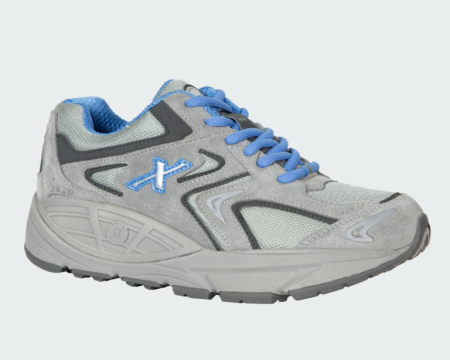 The matrix 2020 has the patented Xelero technology that can help common foot-related issues including knee and ankle pain, plantar fasciitis and metatarsalgia. The Custom Fit System (CFS) in this shoe allows for a perfect fit along with extra depth to accommodate a custom orthotic. Features such as the soft gel pads, a firmer propulsion element and control plate, as well as the durable soft suede leather and breathable mesh will provide you with the stability you need and an exciting new modern look.
Choose the right Stability/Motion Control Shoe from Xelero's Extensive line
While the Matrix 2020 is a great option, there's plenty more you can choose from! Xelero technology uniquely helps both overpronation and under-pronation foot types. The internal propulsion element cradles the rear foot into a neutral position helping to guide the foot into a level gait pattern. With Xelero motion control shoes, you will walk easier and stay on your feet longer with less pain, whether that means helping you live a healthier and more active lifestyle, or getting you back training quicker while overcoming an injury.